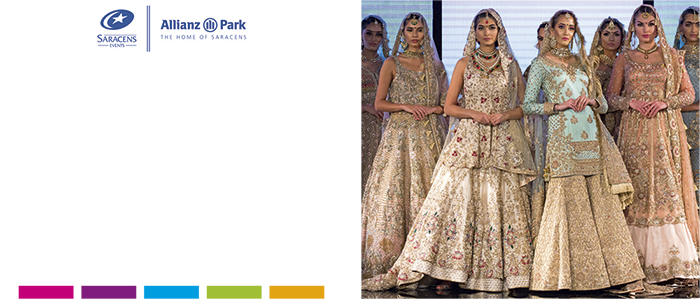 ALLIANZ PARK
Greenlands Lane, Hendon,
London NW4 1RL
Sat 23rd & Sun 24th Feb 2019
EXHIBITION: 10am – 7pm
CATWALK: 12pm / 1pm / 2pm / 3pm / 4pm / 5pm

We had 15,000 quality visitors last year.
They booked MILLIONS of pounds worth of services with our Exhibitors.
Our Exhibition Stands start at £1200+VAT

Exhibition stands include shell-scheme, electrical socket and 3 spotlights. Additional power and lighting is available on request at an additional charge. Alternatively, you can opt for Space Only – giving you the flexibility to build your own bespoke stand.
All Stands priced at £200 per sqm + VAT
2m X 3m: £1200 + VAT
4m X 3m: £2400 + VAT

We all like to meet customers face to face. At the Asiana Wedding Weekend, everything is designed to match hundreds of suppliers with thousands of customers. Last year's show was a huge success, with 15,000 high value visitors throughout the weekend, who went on to book millions of pounds worth of wedding services from our exhibitors. If you're in the wedding business, you can't afford to miss the biggest bridal event ever!
Perfect Date > 23rd & 24th Feb 2019 – 10am-7pm
Perfect Venue > Allianz Park, North London
Perfect Price > Exhibition Stands from £1200
For every premium Asian wedding company, showcasing your services to potential customers at the Asiana Wedding Weekend is essential.
Every detail of this event has been designed to present your business in the best possible style – Professional, Personal and Inspirational.
We have thousands of high value brides and grooms attending the event – all looking for the right companies and individuals that can turn their wedding dreams into a beautiful reality.
Our exhibition stands are arranged in different shapes and sizes –  all designed to suit your budget and ambition.
All stands are sold as shell-scheme packages, which come complete with walls, spotlights and power sockets. If you want something unique, you can opt for space-only and build your own bespoke stand.
Our Event Management Team will liaise with you over all the important details such as access and build times, plus assist with any other requirements such as furniture, extra lighting and stand fittings.


TRENDSETTING CATWALK SHOWS AND EXCLUSIVE MASTERCLASSES
12pm / 1pm / 2pm / 3pm / 4pm / 5pm
Each hour will be broken down into the following:
1. CATWALK SLOT 1: 3 – 4 mins
Fashion Brand has their own EXCLUSIVE CATWALK SLOT, showcasing 8 outfits.
Pricing: £1,750 + VAT
2. CATWALK SLOT 2: 3 – 4 mins
Fashion Brand has their own EXCLUSIVE CATWALK SLOT, showcasing 8 outfits.
Pricing : £1,750 + VAT
3. CATWALK FINALE SLOT 3: 7 – 8 mins
Fashion Brand has their own EXCLUSIVE DOUBLE CATWALK FINALE SLOT, showcasing 16 outfits.
Pricing : £2,500 + VAT
4. MUA / HAIR / MEHNDI MASTERCLASS PACKAGE:
Choice of Makeup Masterclass / Hair Masterclass / Mehndi Masterclass.
The Masterclass will need to be rehearsed and approved. Time: 10 mins.
We will supply one Model/outfits/accessories as required.
You can also have a mini-catwalk beauty parade with models.
Ideally you would use models for this from your Exhibition Stand to save cost. Masterclass will have live relay on giant screens for audience close-up view. Masterclass purpose is to promote the Artist as an expert, generate direct bookings and promote full Training Courses by giving a taste of what can be learned.
• You will be introduced on stage for interview about your work and subject.
• Masterclass filmed for broadcast, plus video + all photos for marketing.
• Full set of photos for use on social media and other marketing.
• Asiana Facebook & Instagram updates for your brand before the show.
Pricing: £500 + VAT
5. SERVICES MASTERCLASS PACKAGE:
Are you a leading  wedding planner, caterer, décor, jeweller? This is your opportunity to showcase your wedding services.
Each masterclass will last 10 – 15 minutes and this is the opportunity to showcase your profile as one of the leading movers and shakers of the Asian wedding industry by advising and presenting to our brides and grooms on the Asiana stage. You will be interviewed on stage by our presenter and there will be an open Q&A session with the brides in the audience.
Pricing: £500 + VAT
Reaches 90% of active wedding customers.
Newsfeed Ads on Facebook & Instagram.
Video ads on YouTube. Google Adwords Campaign.
Reach: 12.5m impressions/views +
Asiana Wedding Magazine (Print + App):
6 pages Ads/Editorial.
Reach: 200k readers.
Asiana Newsletter:
Main Story/Competitions. Reach: 70k subscribers
Asiana Social Media:
FB/Insta/Snap/Twitter/YouTube: Reach: 1.5m
Primetime spots on major Asian TV Channels.
Reach: 400k Asian households.
Press release/comps/newspapers/mags/bloggers/radio/tv and other media.
Reach: 1.5m.
100k flyers/brochures distributed by Street Teams in Target Asian Locations.
100+ Poster sites, including high traffic retailers and prime locations.
To book a stand or get more info please select below
Cauvery Bhandari
Sales Director
Rajesh Nair
Corporate Director
Amarjit Ram
Advertising Executive